Cinderella to take the Stage at Sevastopol
The Sevastopol Theater Department is bringing Cinderella by Rodgers and Hammerstein to the stage on March 10th and 11th at 7 pm and March 12th at 2 pm.
We all know the story of a young woman forced into a life of servitude who dreams of a better life. But this updated version of the classic tale introduces new characters and themes, adding humor, deepening the message, and increasing the relevance of the musical for modern audiences. Based on the original Rodgers and Hammerstein score, the musical includes some of the most beautiful songs ever written. And from the first known story in ancient Greece to now, the tale embraces thousands of years of storytelling.
Musical director Amy Ensign, who has been directing shows at Sevastopol for 15 years, says that viewers can expect nothing short of fun while watching the show.
"I like it when Cinderella makes it down the stairs with both glass slippers on," Ensign said. "She then chooses to go back and leave one behind. I love self-rescuing princesses!"
It takes a village to put on a musical. Thanks to the help of multiple community members, Sevastopol can bring Cinderella to the stage. Unlike previous years, the pit band is not just made up of students who are in band.
"Quite a few musicians in the pit band are members of the community," Ensign explains. "Our student musicians are getting to play next to musicians with a lot of professional experience."
Directed by Mark Fischer, the pit band comprises multiple dedicated community members and students, including Ezra Linnan, Kapri Gill, Kylee Duessler, and Isabella Wadkins.
The Cast comprises eight high school students, eight middle school students, and 13 elementary students. It includes Bea Dramm, Merrick Mann, Jackson Toivonen, Lucas Apsey, Ophelia Linnan, Ben Martin, Abbigail Hayes, Noelle Patza, Cathleen Davis, Caroline Luedtke, Braelyn Staats, Ryder Ortmayer, Kayla Stout, Zoey Copiskey, Autumn Sargent, Maura Marggraf, Rachel Rock, Josie Serrahn, Vivienne Tanck, Shaylyn Asher, Grace Brandenburg, Brennan Staats, Luke Georgenson, Madi Jarosh, Colt Johnson, Jaya Lama, Preston Surfus, Addison Sanders, and Ana Thyssen.
The musical is dedicated to Jim Rericha, a long-time art teacher and theater director at Sevastopol. When Rericha passed away, family and friends made memorials to the art and theater departments in his honor.
It is only fitting that two of Rericha's former students, Ann Barnard Birnschien and Betsey Madden Mueller stepped up to help with vocal directing.  Both were involved in theater when they were at Sevastopol.
"To quote a line from the opening number, it's 'bizarre and improbable…like a page from a fairytale book' to have this opportunity to give back to the community that shaped me and nurtured my creative soul," Birnschien said. "It's even more full-circle with having Mrs. Pfister in the pit on piano as she was my music teacher at Sevastopol!"
Another Sevastopol Alumnae is part of the crew. English teacher Mindi Vanderhoof helps with assistant directing. Though she was never involved in theater in school, she remembers Rericha's influence on theater at Sevastopol.
"As a kid, I have vivid memories of watching what I thought were huge productions on the Sevastopol stage like South Pacific and West Side Story," Vanderhoof  said. "The sets were larger than life, and I was in awe. Mr. Rericha was very much responsible for those moments of awe. I feel so honored to be able to help keep theater alive at Sevastopol."
No tickets are required to see the show. Free-will donations are accepted at the door, and concessions will be available to purchase to help support the theater program.
Leave a Comment
Donate to the Pioneer Chips
Your donation will support the student journalists of Sevastopol High School. Your contribution will allow us to purchase equipment and cover our annual website hosting costs.
About the Contributor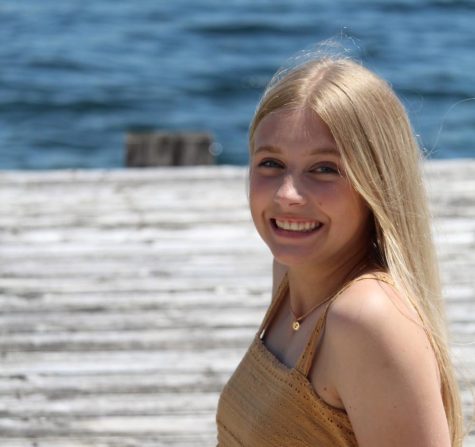 Teagan Ellefson
I am a senior at Sevastopol this year, and I am a reporter for Pioneer News/The Pioneer Chips! In addition to writing, I also design a lot of the graphics...