Students' Voices Heard Over Refined Dress Code
Schaefer will take updates to the board for approval
Along with the new school year came refined dress code standards for Sevastopol students.
The changes were not that drastic compared to other schools in the surrounding area. Gibraltar, Sturgeon Bay, Southern Door, Algoma, Kewaunee, and Sevastopol had many commonalities. For instance, students are not allowed to wear clothing with inappropriate language or references to drugs or alcohol. All schools also have regulations regarding the length of shorts, skirts, and dresses. Finally, all schools ask that students not wear anything that can physically stop them from learning.
Sevastopol is the only school to enact a rule about leggings. The rule states: "Clothing such as leggings, spandex pants or shorts, yoga pants, tights, jeggings, etc. must be worn with a top that is longer than the seat of the pants." 
The leggings rule was the most shocking change for most students.
"When I first read the new changes, I thought that a lot of it was the same but more specific," sophomore Lilly Sawyer said. "Except if you wanted to wear leggings, you had to have a long enough shirt. Nothing is showing when most girls wear leggings, so what's the big deal?" 
Sevastopol High School Principal Troy Schaefer worked to make the code more specific to make it easier to enforce.
"One of the goals was to eliminate the gray area," Schaefer said. 
After talking with a small group of student leaders, Schaefer decided to take the feedback from students to the upcoming board meeting. 
Schaefer will ask the board to approve updated language regarding the leggings rule. 
Clothing such as leggings, yoga pants, tights, and spandex will be allowed with a shirt that meets or extends past the hips instead of covering the seat completely, like in the previous language.
Students also raised concerns regarding using the word disruptive, and Schaefer wants to clarify what that means.
"We are not implying that girls wearing certain outfits are disruptive," Schaefer said. 
The word disruptive means that if you were to dress in a costume or clothes with vulgar sayings, that would be disruptive.
Another edit Schaefer will ask for is to change the wording around head coverings. He wants there to be an exception for religious or medical reasons.
Overall the dress code was put in place and revised not to limit student expression according to administration. Instead, it is in place to uphold and meet professional standards.
Leave a Comment
Donate to the Pioneer Chips
Your donation will support the student journalists of Sevastopol High School. Your contribution will allow us to purchase equipment and cover our annual website hosting costs.
About the Contributor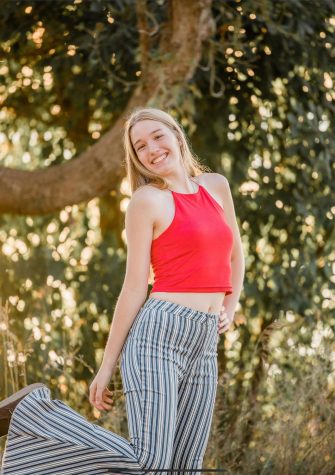 Sophia Bley
I am a senior at Sevastopol, and a reporter for both the Pioneer Chips and Pioneer News. I have been featured in the Peninsula Pulse for a letter that...