Girls Basketball Roundup
The Sevastopol girls' basketball team is on fire.
They are undefeated in conference play, and are leading the Packerland conference with a record of  7-0. This is the first time since 1977 that the team has been able to hold this title.
They begin their second round of conference matchups when they host Southern Door on their home court on Friday, January 27.
The team is now ranked 7th in the state for Division 5.
Reese Schauske, a senior center, credits her team's ability work together to help each other grow on the court.
"We pushed each other to become better players," Schauske said. "Working together as a team is a huge part of the game, and you can't rely on one person to do all the work."
Schauske also believes that having a drive for the game while also having fun is a huge contributor to the team's successes this year.
Another recent success that the team has accomplished comes from junior guard Libby Ash, who is now the top 3-point scorer in the state for Division 5. Ash sits with a 51% shooting percentage this season, making 25 of her 49 shots so far.
"It feels really awesome to be able to reach this goal" said Ash. "It took many hours of practicing, and even staying after practices to put up some more shots."
To cap off the first half of the season, the team traveled to Mellen, WI to play in a memorial game in the hometown of coaches Ben and Beth Rikkola.
"Bringing the Pioneers to play in Mellen, where both Ben and I played in high school, brings about a lot of emotions" said Beth Rikkola. "Not only do my daughters get the chance to play on the same court as we did, they also get the chance to play against some of my teammates' daughters.  But more importantly, the Pioneer girls get to witness the power of a community coming together to remember and honor two people who helped bring girls sports to the front burner in Mellen in the early 90s."
After the game, there was a bench dedication ceremony to honor Beth's high school basketball coach Mark Nuutinen and his daughter, Tara.
"Mark was a long-time girls/boys coach in Mellen with a history of winning and turning programs around. Tara was his daughter" said Rikkola. "I was lucky enough to call Tara a friend and teammate during my years at Mellen. She was the glue of all our sports teams and always held us to high expectations.  So, as you can see, this trip is more than just playing basketball. It's about seeing the positive impact sports can have on individuals and communities."
The girls played two games during this trip. They started off playing Owen-Withee on Friday night, and then played Mellen on Saturday at 3:00. In between games, there was lots of team bonding activities at a cabin they are staying in Winter, WI.
Leave a Comment
Donate to the Pioneer Chips
Your donation will support the student journalists of Sevastopol High School. Your contribution will allow us to purchase equipment and cover our annual website hosting costs.
About the Contributor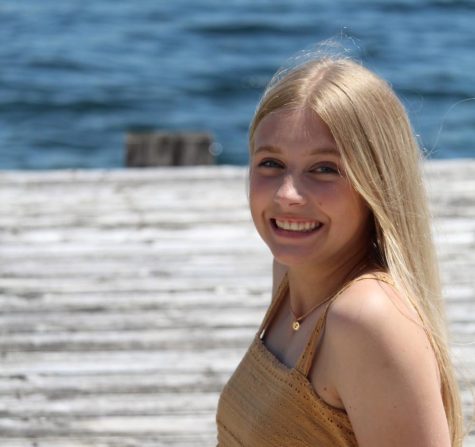 Teagan Ellefson
I am a senior at Sevastopol this year, and I am a reporter for Pioneer News/The Pioneer Chips! In addition to writing, I also design a lot of the graphics...