Pioneers Induct Inaugural Class of Athletes to Athletic Hall of Fame
At almost 100 years old, Sevastopol has had a long history of successful sports programs. As a result, the Sevastopol Athletic Hall of Fame was created to pay homage to this history.
On October 14, the inaugural class of athletes was inducted. Among the inductees were the 1955 wrestling team, the 1975 and 1976 basketball teams, individuals Michelle (Bushman) Schinktgen and Clayton "Junior" Haen, sports contributor Paula Symons, and coaches Cassie Cibik-Moeller and Dan Hein.
Michelle Schinktgen was a three-sport athlete, participating in volleyball, basketball, and softball. She earned 11 Sevastopol letters over her career, scored over 1,000 points in basketball, and played in two volleyball state tournaments. She was a member of the 1991 state championship volleyball team.
Clayton Haen, a 1957 Sevastopol Graduate, participated in wrestling, football, baseball, and track. He was a two-time state wrestling champion. 
Cassie Cibik-Moeller was a phy ed teacher at Sevastopol High School for 35 years. She also coached varsity volleyball for 15 years, from 1976 to 1991. She won two state championships in volleyball in 1984 and 1991. 
Dan Hein was a phy ed and health teacher at Sevastopol. He was a head varsity coach for the football, track, and wrestling teams from 1978 to 1990. His teams together won four Packerland Conference championships, eight regional titles, and six sectional titles. He also coached 10 individual state champions. Dan was inducted into the Sevastopol Wrestling Hall of Fame in 1995 and the Wisconsin Wrestling Hall of Fame in 2004. In addition, he was inducted into the National Hall of Fame in 2006. He was named Wisconsin-wrestling coach of the year in 1984, 1999, and 2008. 
The 1975 men's basketball team won the Bay Lakes Conference title for the first time in 37 years. The 1976 team also claimed this title, finishing the regular season 10-2.
The 1955-56 wrestling team went to state for all ten weight classes. It was the only team out of the 37 at the state tournament to do so. The team placed 13th overall at state, and Haen was crowned state champion. The team finished the year with a conference record of 11-2.
Paula Symons was inducted into the hall of fame as Sports Contributor/Volunteer. Symons took on many roles during her time at Sevastopol. On top of being an elementary and athletic director secretary from 1999-2019, she also wore the hats of PA announcer, ticket taker, pep rally coordinator, and game and official scheduler.
While these teams and individuals were inducted because of their accomplishments, sports meant more than accomplishments to them. Sports taught them life lessons, provided them with lasting friendships, and created memories to last a lifetime.
For 1992 graduate Schinktgen, athletics were about the team.
 "Athletics taught me that working as a team is what is most important–all the other things are a bonus," Schinktgen said. "Also, that heart and desire are two important things in athletics and daily life. You need to put in extra effort to rise above." 
Dale Fuller, a member of the 1976 basketball team, also learned many life lessons from sports, which he was then able to pass down as a coach.
"Playing sports taught me a lot about teamwork, hard work, commitment, and competitive attitude," Fuller said. "They taught me that sometimes life is unfair, but you can't quit. You have to keep plugging away."
For others, the memories created were some of the best parts of high school athletics. 
Steven Tebon, another 1975 and 1976 basketball team member, says that some of his favorite memories included the last-second game shots and sharing the championships with the fan section. 
Darrel Severson not only served as the assistant coach to the 1976 basketball team but also as Sevastopol's athletic director, health teacher, and driver's education teacher and coached cross country, track, and boys basketball. In addition, he loved being involved in extracurricular activities.
"There are so many fantastic memories of teams and individuals that I could never highlight just a few, Severson said. "I will say that I enjoyed practices as much as contests. I looked forward to 3:20 P.M. every school day and my chance to be part of Sevastopol's Extra Curricular activities."
The hall of fame was created to honor the Sevastopol athletes and coaches who showed excellent athletic skills, demonstrated great sportsmanship, and gave back to the community. The inductees felt the honor and privilege of being part of this new tradition.
"I was surprised, proud, and humbled to be in the same Hall of Fame class as the others," assistant coach of the 1975 men's basketball team Jim Adams said. "I wish Coach John Toppe could have been with us to share in this honor." Toppe, the head coach, was an integral part of this team and unfortunately passed away in 2019. 
Ron Meikle, a member of the 1975 and 1976 basketball teams, credits John Toppe for the teams' successes.
"Our coach John Toppe told us we would win after seeing us play together as 4th graders," Meikle said. "He was the mentor we needed to give us a dream and help us make it come true. To me, he's the reason we are in the Pioneer Hall of Fame. His vision for all of us, our school, was to be the best Athletic school in the county. And what has happened? Championships in multiple sports. Individual champions. I am very proud to be a part of this Pioneer basketball team that contributed to this winning culture here at Sevastopol High School."
Meikle and Tebon made the Athletic Hall of Fame possible with a generous financial donation.
Nominations for the class of 2023 will be accepted from March 15 until April 15. Applications can be found on the Sevastopol website under the athletics page. The nomination categories are athletes, team, coach, and volunteer/sports contributor.
Leave a Comment
Donate to the Pioneer Chips
Your donation will support the student journalists of Sevastopol High School. Your contribution will allow us to purchase equipment and cover our annual website hosting costs.
About the Contributor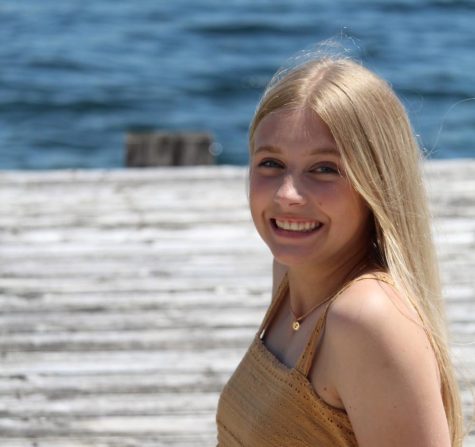 Teagan Ellefson
I am a senior at Sevastopol this year, and I am a reporter for Pioneer News/The Pioneer Chips! In addition to writing, I also design a lot of the graphics...