Seniors take trip to Rock Island
English department revives annual trip with Washington Island seniors
For the first time in six years, the senior class made the trip to Rock Island. In addition, the senior class from Washington Island and their English teacher Leila Nehlsen joined.
The trip was a culminating event for the students' Beowulf unit and was a tradition at Sevastopol for many years.
"I remember taking this trip as a senior in high school at Sevastopol," English teacher Mindi Vanderhoof said. "It was one of the experiences I will never forget, and I'm so happy this year's senior class will have these memories as well."
For many, it was their first trip to Rock Island.
"I was excited to see the boathouse because I had seen pictures of it before," senior Reese Schauske said. "I was also excited to experience something new because I had never been to Rock Island before."   
The boathouse on Rock Island has ties to Icelandic culture and is reminiscent of Mead Halls found in Norse Mythology and Beowulf, the epic poem the students studied before their trip. Students performed their final projects in the boathouse in front of their peers and the Washington Island students.
"The grandeur and the furnishings gave us the feeling of Icelandic culture along with the echoey room that expanded our emotions and words when we presented," Johanna Andreae said. 
After their presentations, students were given time to explore the rest of the island. 
Many of the students hiked up the lighthouse and were able to tour it and learn about the preservation of the island and lighthouse.
The day offered an opportunity for students to connect with each other and with nature.
"My favorite thing about Rock Island was the fresh air and the hiking we got to do," senior Claire Haberli said.
At the end of the day, students formed a gratitude circle and expressed what they were thankful for. They learned that there were three generations of Sevastopol English teachers on the trip. Leila Nehlsen, Washington Island's English teacher, was Heather Spetz's English teacher at Sevastopol, and Heather Spetz was Vanderhoof's English teacher at Sevastopol. Just as these English teachers are passing down the trip to future generations, the seniors agreed that they would like to see this trip continue for future classes.
"It was good to be able to learn without technology for once, and future generations should have the same opportunity," senior Samuel Sawyer said.
Leave a Comment
Donate to the Pioneer Chips
Your donation will support the student journalists of Sevastopol High School. Your contribution will allow us to purchase equipment and cover our annual website hosting costs.
About the Contributor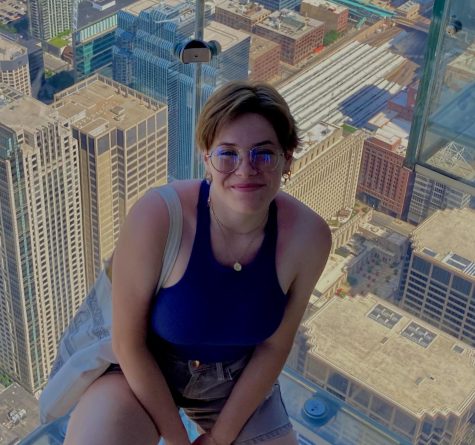 Emma Stueber, Reporter
I am a senior at Sevastopol and I am reporter for both the Chips and Pioneer News! I have written a book and it is published on Amazon! My plan for the...